Paul Allen Played Guitar Like Jimi Hendrix, Says Quincy Jones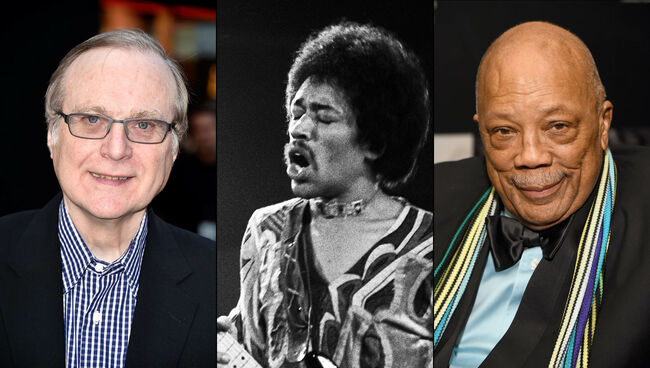 Late-Microsoft co-founder Paul Allen was not just a tech visionary, philanthropist and patron of the sciences and arts, he was also an incredible musician, according to at least one man who would know.
In an interview from this past winter in which legendary music producer and executive Quincy Jones dissed just about everyone, there were only a couple of rock musicians for whom he expressed genuine respect.
One was Eric Clapton (specifically because of his work with Cream), the other was Allen.
"But you know who sings and plays just like Hendrix?" Jones asked Vulture during an exchange in which he was discussing the inferiorities of rock musicians. "Paul Allen."
Jones continued.
"Yeah, man. I went on a trip on his yacht, and he had David Crosby, Joe Walsh, Sean Lennon — all those crazy motherf***ers. Then on the last two days, Stevie Wonder came on with his band and made Paul come up and play with him — he's good, man."
Allen died of cancer on Monday at age 65.
Jones' singling out of Allen as an impressive guitarist was that much more notable because it came just moments after Jones explained how Hendrix himself "chickened out" of a session for his 1970 jazz album Gula Matari.
Elsewhere in the same interview Jones slagged The Beatles' musicianship and derided Michael Jackson for plagiarizing his biggest hits. He later apologized for the "bad-mouthing."
Photo: Getty Images